Multicard Healthcare
now offers a wide selection of healthcare kiosk solutions for patient check in and appointment scheduling.
Contact us
today for free consultation regarding the best options for your organization's specific needs.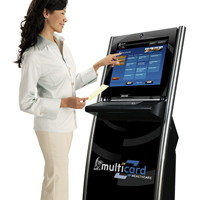 Custom Kiosk Solutions
Kiosk applications in a hospital environment are wide-ranging and can provide endless benefits to the patient experience. Kiosks can allow a hospital staff to gather patient data such as symptoms, personal information, as well as payment options & updated insurance information. The patient experience can greatly improve by providing directions around a hospital, better education and public awareness, immediate check-in validation, and a reduction in wait times. Hospitals see decreases in administrative costs, and have the ability to do things like conduct surveys and automate application processing.
Our custom Kiosks can be designed with insurance card scanners, cameras, payment devices, and biometric ID devices to meet the technology requirements of any healthcare application.
If you are curious about what we have available, contact us today for pricing and available options.